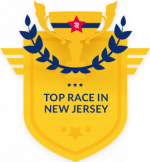 Discover the natural terrain of the Lost Brook Preserve. Experience sections of the trail as you navigate over roots, rocks, and streams through Tenafly Nature Center's nearly 400 acres of wetlands and hardwood forest.
Nestled within the township of Tenafly, New Jersey and just outside of New York City lies a majestic woodland. Lost Brook is part of an almost 400 acre nature preserve that contains a 7-mile trail system. This green space is managed by the Tenafly Nature Center, a non-profit member-supported organization, on a mission to educate the next generation of conservationists.
No Refunds
By running a Lost Brook event, you will be helping the Tenafly Nature Center provide environmental education programs to future generations both on and off the trails.
We are proud to announce that the Lost Brook Trail Race has been selected as a RunnerClick.com top NJ race!